Relevant Tones Live: Overlooked No More
The New York Times has begun a new program called Overlooked in which they belatedly write obituaries for extraordinary people, (many of them women and people of color), whose lives were not originally commemorated upon their passing.

Access Contemporary Music has commissioned five composers to write a short musical piece for string quartet inspired by a life featured in the series.

We'll perform each piece, hear from the composer how they paid musical homage to the person who inspired them, and talk with special guests filmmaker Vanessa Gould (Obit, Between the Folds) and Baltimore Sun obituary writer Jacques Kelley.

Every life has an arc and every life has a story. This evening of storytelling and music will be unforgettable.

Produced in collaboration with the Esopus Foundation, Ltd and featuring the Overlook String Quartet.
  Hours
Friday, April 28,  7:30 PM
  Location
Symphony Space
2537 Broadway (NYC)
$20, $15 seniors, $10 students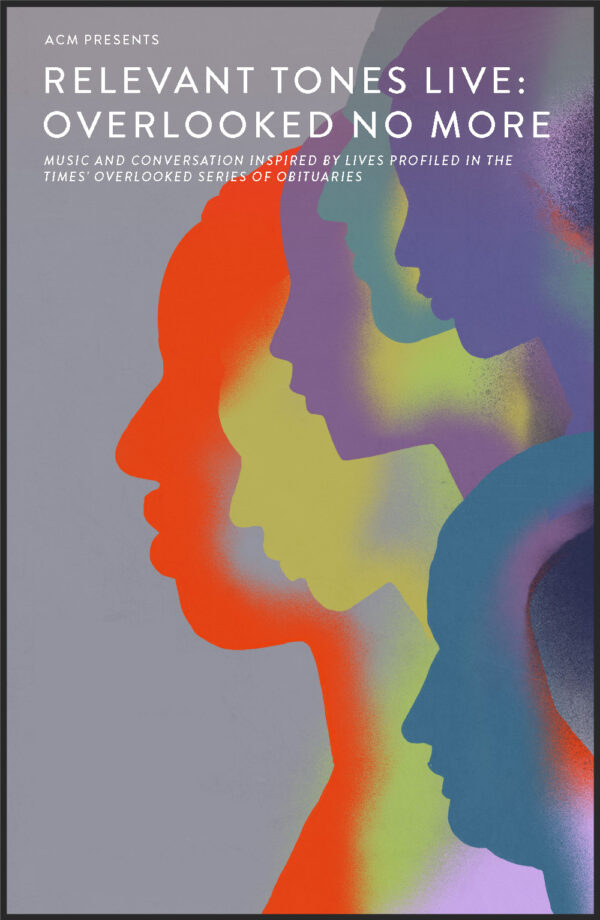 Mary Eliza Mahoney by Nailah Nombeko

Maria Oroso by Lynn Bechtold
Judee Sill by Shanan Estreicher
Jovita Idár by Gilbert Galindo
Remedios Varo by Milica Paranosic
Meet Our sponsors
Relevant Tones Live is sponsored in part by: