BACK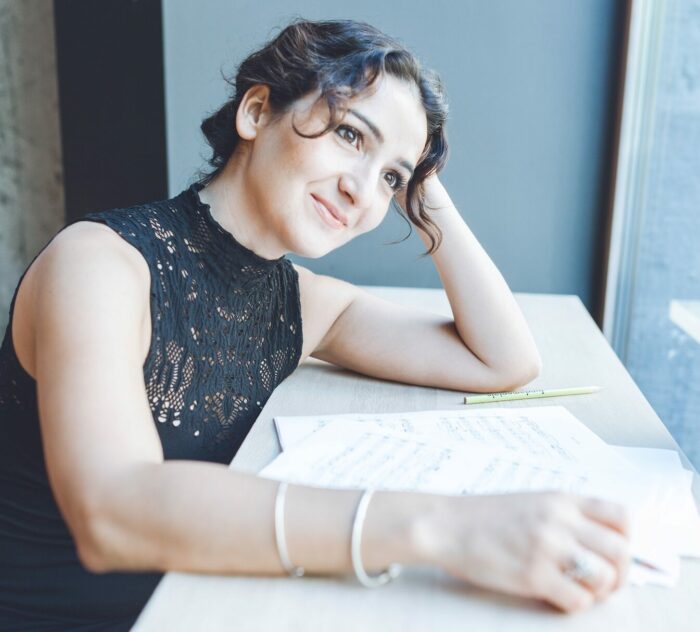 Composer
Tatev Amiryan
Dr. Tatev Amiryan is an Armenian-American award-winning composer and pianist. Her music has been performed in the United States, Armenia, Russia, Ukraine, Israel, England, Poland, Spain, Italy, France, Germany, Netherlands, Belgium, and Japan by such renowned ensembles and performers as, German Chamber Philharmonic of Bremen, Portland Youth Philharmonic, National Chamber Orchestra of Armenia, CMEA Central Coast Honors Orchestra, Carpe Diem String Quartet, Ensemble Oktoplus, Metropolitan Choral of Kansas City, Juventas New Music Ensemble, Globus Music Ensemble, Playground Ensemble, pianists Jeffrey Jacob, Hayk Melikyan, and thereminist Thorwald Jorgensen. Her pieces have been featured at such prestigious festivals and projects as MITO Settembre Musica International Festival, GogolFest, Królewskie Arkady Sztuki, Blurred Edges, Women Composers Festival of Hartford, London International Piano Symposium, and Crossing Borders Music.
Amiryan has received such awards as the 1st Prize at the UMKC Conservatory Chamber Music Composition Competition, Metropolitan Chorale of Kansas City's Composition Contest, Abundant Silence Composition Competition, International Alliance for Women in Music Call for Scores, Crossing Borders Music Call for Scores, RMN Classical Call for Piano Works, Juventas New Music Ensemble Call for Scores, and the 2nd Prize at New Ariel Recordings Fifth Piano Composition Competition. She has been commissioned by such acclaimed organizations and performers as North German Radio NDR, Portland Youth Philharmonic, New Ariel Recordings, Abundant Silence Music Publisher, Lilith Ensemble, American pianist Jeffrey Jacob and Armenian pianist, Honored Artist of Armenia Hayk Melikyan. In 2016, she released her first album of complete piano works performed by pianist Hayk Melikyan. Her music has been broadcasted by different TV and Radio stations in Armenia and in the US, including the Armenian Public TV H1, American Public Media, Iheart, WCNY, KPTZ, and Vem radio stations' classical music programs.
Amiryan has performed extensively in Armenia, throughout the US, and in UK, at such prestigious venues and institutions as Preston Bradley Hall at Chicago Cultural Center, San Jose State University, Southern Connecticut State University, UMKC Conservatory of Music, Mark Twain House & Museum in Hartford, CT, Aram Khachaturian House-museum and Komitas Museum-Institute in Yerevan, Armenia, and Royal College of Music in London, UK. In March, 2022 she will have a debut concert at Weill Hall at Carnegie Hall, as a guest composer and pianist, at the "Musical Armenia" concert organized by the Eastern Prelacy of the Armenian Apostolic Church of America. Amiryan holds bachelor's and master's degrees in both composition and musicology from Komitas State Conservatory of Yerevan, Armenia and DMA Doctor of Musical Arts degree in composition from the University of Missouri-Kansas City Conservatory of Music and Dance. She is a member of the Union of Composers of the Republic of Armenia.
FOLLOW