BACK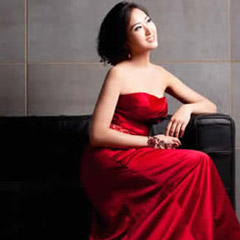 Piano, Violin
Josephine Yang
Based in Chicago, IL, Josephine Yang performs internationally as a soloist and collaborator. She received the Master of Music degree in piano performance in 2016 under the direction of world-renowned concert pianist Daniel Pollack at the University of Southern California Thornton School of Music.
In the 2014-15 season she made her debut performances with Orquesta Filarmonica de Sonora (Mexico), Arizona Repertory Orchestra, and Sierra Vista Symphony Orchestra, in a performance which won the city's Hessy Award  for "Best Performance of the Year." She has performed at several music festivals including Pianofest in the Hamptons (2015), directed by Paul Schenly, where she studied with Mr. Schenly, Kathryn Brown, and Orion Weiss, the 36th Annual Daniel Pollack Masterclass in Seattle (2014), co-sponsored by Steinway, and MusicFest Perugia (2009, 2011), directed by Ilana Vered. She was also featured as a pianist on a television show from Japan's Shinagawa district, which aired in 2015.
In her freshman year at Arizona State University, Josephine won the 2011 annual Concert of Soloists competition, which led to a performance of Rachmaninoff's Piano Concerto No. 1 with the ASU Symphony. Other honors include the Grand Prize Winner at the 2009 Arizona Musicfest Competition, first prize in the Senior Concerto Division of the 2009 Schimmel/Arizona Piano Young Artist Competition, and 2008 MTNA Arizona State Senior Division Winner. In May 2014, she received the Bachelor of Music, summa cum laude, in piano performance from Herberger Institute for Design and the Arts of Arizona State University. Her mentors include Dr. Baruch Meir and Dr. Hamilton Tescarollo.
Since her middle school years, Josephine has performed regularly with numerous orchestras around the state of Arizona and has been presented in Italy with Solisti di Perugia Orchestra (2009) and with the orchestra in residence at Music Fest Perugia in Perugia's historic Basilica di San Pietro (2011). Her piano performances have been consistently recorded and broadcast on public radio by 89.5 KBAQ Production Studio.
An avid collaborator as well as a soloist, Josephine has performed with members of the Cincinnati Symphony and many young artists in recitals and competitions, including the CSYO Concerto Competition in November 2016, of which the two top prize-winning performances were her collaborations. She made her Weill Recital Hall at Carnegie Hall collaborative debut in November 2016 with cellist Miriam Smith, who was also her private piano student.
Josephine is a passionate teacher who sees teaching as an essential expression of her personality and musicianship. She values that every student is different in terms of interests, learning strategies, and personalities, and adapts her teaching to each situation. She also believes deeply in interdisciplinary art collaboration, and is launching a concert concept that combines the forces of living music, lighting design, art film, and fashion design in an ongoing, large-scale project with Lanly Le as the videographer and photographer.
A recipient of the National Merit Scholarship, Josephine attained the distinct honor of valedictorian of her class at Desert Vista High School. She also performs on violin and has collaborated with many musicians in orchestras and chamber groups in the Southwest United States. In 2004, she co-founded the Phantasie Ensemble, a dynamic group of young musicians dedicated to bringing classical music to the public through community service concerts. She holds the title of Miss Phoenix Chinese 2011. Josephine currently resides in Chicago with her two rescued dogs, Bella and Luna.
FOLLOW

Josephine Yang CLASSES
View all lessons
Violin
We offer violin lessons to adults and kids age 4 and up using either the traditional or Suzuki methods of teaching. Beginners are welcome and our teachers are able to teach all musical styles.