BACK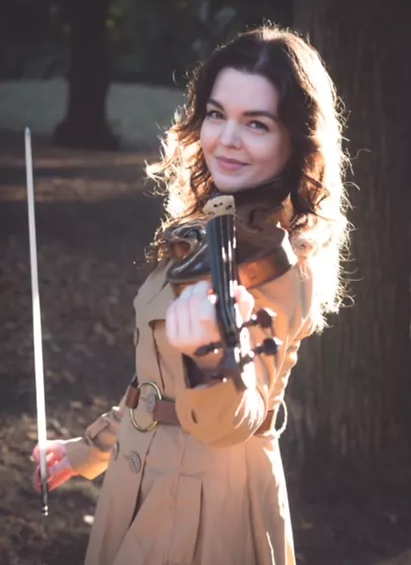 Violinist
Joenne Dumitrascu
European-born Canadian musician & performing artist Joenne Dumitrascu (born Oana Dumitrascu) began her musical studies at the age of six in Europe and continued (violin and piano studies) in the pre-college division of the Royal Conservatory of Music (RCM) in Toronto. She went on to train as a violinist at the RCM's Glenn Gould Professional School (B. Mus., A.D.), The Boston Conservatory at Berklee (M.M.), and furthered her training with additional studies at the the Hochschule für Muzik und Theater München, the University of Music and Performing Arts Vienna, as well as the Royal College of Music in London.
Additionally, she trained at the Meadowmount School of Music, the RoundTop Festival-Institute, the Banff Centre, the Summit Music Festival, and the Casalmaggiore International Music Festival in Italy. Dumitrascu is currently a doctoral candidate at the State University of New York at Stony Brook (SUNY Stony Brook), where her principal teacher is Philip Setzer, and she studies chamber music with the Emerson String Quartet and David Finckel. Dumitrascu recently graduated from the newly-established Emerson String Quartet Institute.
Dumitrascu was invited to make her orchestral debut at the age of 14 with the Windsor Symphony Orchestra and appeared on CBC Radio a year later performing Bruch's Violin Concerto No. 1 in G minor. She was on the competition circuit and appeared at Johansen, Marteau, Enescu, Stulberg, Glenn Gould Chamber Competition, and Canadian Nationals amongst many others, several of which she was laureate of. Dumitrascu is a scholarship and grant recipient of Kiwanis International (Canada Region), Ontario and Canada Arts Councils.
Dumitrascu has toured regularly throughout Europe, Asia, and North America, and performed at such venues as the Canadian Broadcasting Company's Glenn Gould Studio, Koerner Hall, Carnegie Hall's Weill Recital Hall and Stern Auditorium, the Four Seasons Center's Richard Bradshaw Amphitheater, Boston's Jordan Hall, and the Romanian Atheneum in Bucharest, Romania. She has regularly recorded for the Canadian Broadcasting Corporation and CityTV in Toronto, WGBH in Boston, WFMT Chicago, NBC, ABC, and many others. She has performed frequently in the Noon Hour Concert Series at the National Ballet of Canada/Canadian Opera Company's Four Seasons Center and has made guest appearances for The Boston Conservatory's strings faculty chamber series, String Masters, the Aulos Ensemble (one of America's top early music ensembles), and during Prince Charles and the Duchess of Cornwall's visit to the Royal Conservatory in 2009.
She was recently a guest artist on WFMT's Relevant Tones with Seth Boustead: Discovery Series, with performances at National Sawdust and (le) Poisson Rouge. She has collaborated with members of the Emerson String Quartet (ESQ) on several chamber music projects, including the New Music for Strings Festival in Denmark. During the festival's 2017 visit to New York, she appeared with members of ESQ in a gala concert at Carnegie's Weill Hall where she also performed acclaimed American composer Joan Tower's quintet Rising, with the composer in attendance. As an orchestral player, she has performed in the orchestra of the National Ballet of Canada and the Canadian Opera Company, Oakville Chamber Orchestra, Boston Civic Orchestra, and Boston Opera Collaborative of which she was also concertmaster.
Additional studies in film and business have followed alongside music.  Outside of classical music, Dumitrascu has worked on several film and TV projects, including Atom Egoyan's 2009 film Chloe, the TV show Nikita, as well as recording work with the Screen Composers' Guild of Canada. Currently, she is producing an independent short documentary on human trafficking and the challenges that organizations face in expanding their support efforts.
Dumitrascu is a chamber music coach in the undergraduate program at SUNY Stony Brook and the pre-college program at the Herald School of the Arts in Queens, NY, and she is also a jury member of the New York International Music Competition for young artists, held annually  at Carnegie Hall.​ Recently, she was the editor for Taiwanese guitarist Ming-Jui Liu's new work, Morning of the Sunshine, published through Canadian publishing house Les Éditions Doberman-Yppan. Dumitrascu's debut CD has been postponed to 2023 due to the Covid-19 pandemic. The album will feature an all-American program and will be produced by Parma Recording's Navona label and distributed exclusively by Naxos.
FOLLOW