BACK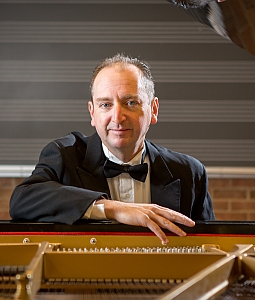 Piano, Composition
Jeff Kowalkowski
Jeff Kowalkowski is a Chicago composer, keyboardist and educator. He has taught private piano, music theory, composition and improvisation for almost 30 years. He currently teaches at both DePaul University (since 1996), and Northeastern Illinois University (since 2002).
With a Teaching Fellowship, he completed his doctorate in Composition at Northwestern University (1996) where his teachers included Alan Stout, Jay Alan Yim, Amnon Wolman, Michael Pisaro, Gerhard Staebler, and Pauline Oliveros. He studied piano at DePaul University with Dimitri Paperno, Vladimir Leyetchkiss, and Alan Swain.
As a composer he is most active. His latest album of original compositions "Jeff Kowalkowski Trio" will be released by New Atlantis Records(Yellow Springs, Ohio) this Spring. His film score for the documentary Compass Cabaret 55 premiered at the Siskel Centerand Sundance in January 2015. His ensemble Articular Facet is a collective of twenty-plus composers working on new opera.
Jeff is thrilled to be teaching at ACM-Avondale for thousands of reasons, two being–he lives less than 1/2 a block from this wonderful music school, and he thinks Seth is a genius!
Jeff's wife and love Mary Decker is a Chicago Public Librarian, our Avondale house contains two sons, five cats, four chickens (eggers), and a shepard-collie stray……..and a bull frog…….I will invite you over after the recitals!
FOLLOW

Jeff Kowalkowski CLASSES
View all lessons
Piano
We offer piano lessons for children beginning at age 4 and for adults of any age. Our teachers have a wealth of experience with young beginners and those returning to piano.