BACK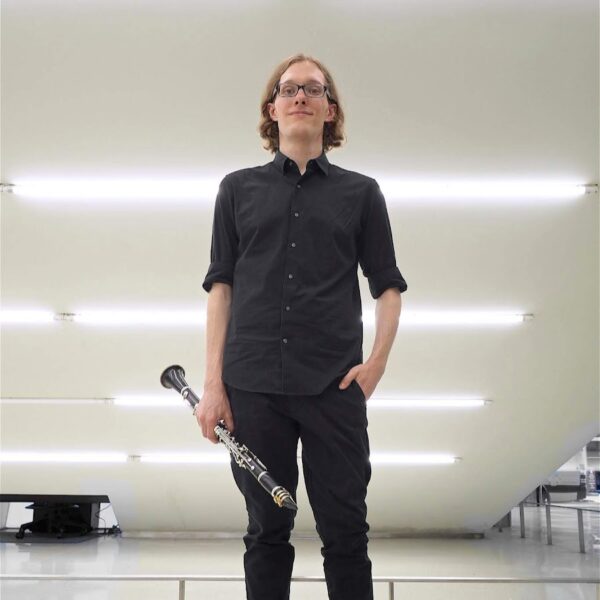 Clarinetist/Composer
Ford Fourqurean
Ford Fourqurean strives to bring communities together through music. He is an award-winning clarinetist, electronic musician, and composer based in New York City. He serves as artistic director of Unheard-of//Ensemble along with many other projects connecting contemporary music with new audiences.
Known as "a unique force" (The Clarinet Journal) in contemporary music, he has toured across the United States with Unheard-of//Ensemble performing at Cornell, Manhattan School of Music, Cincinnati College-Conservatory of Music, and many others. He is Founder and Executive Director of the Collaborative Composition Initiative workshop (CCI//Sessions) bringing together composers each summer from across the country. He has won grants from Chamber Music America, Foundation for Contemporary Arts, Brooklyn Arts Council, the Barlow Endowment to commission Reiko Füting, Alice M. Ditson Fund, Lower Manhattan Cultural Council, Johnstone Fund for New Music, and New Music USA.
Ford performs across New York and the U.S. from venues such as National Sawdust, Carnegie Hall's Weill Recital Hall, Roulette, and Spectrum to DIY spaces and house concerts. Unheard-of is the KEAR ensemble-in-residence at Bowling Green State University, presenting tours of the midwest visiting the Johnstone Fund Series in Columbus, Ohio, Miami University, Ohio University, and West Virginia University. The group is also touring the South with performances at Texas State University, University of Texas San Antonio, Southeastern Louisiana University, University of Tennessee Chattanooga, and Chattanooga State Community College. Last season, presented virtual residencies with Unheard-of at Florida State University, University of Florida, University of Central Florida, and the University of Tennessee-Chattanooga as well as competing in the Fischoff National Chamber Music Competition quarterfinals.
His group Spark Duo with trumpeter Kate Amrine has toured Puerto Rico in 2021 and New Mexico and Arizona visiting the Interference Series, University of New Mexico, Arizona State University, University of Northern Arizona, and University of Arizona in Spring 2020. In fall 2019, he performed in Seoul, South Korea with ensemble mise-en as part of Arts Incubator's Audio Trading Manual. He toured the Midwest in 2018 with Tenth Intervention visiting Denison University, Alia Musica Pittsburgh's Contemporary Festival, and the Johnstone series in Columbus, Ohio. As a freelancer in NYC Ford has worked with Little Orchestra Society, Fresh Squeezed Opera, Curiosity Cabinet in a guest residency at Queens College, and the Uptown Philharmonic in prior years.
Ford also loves to share his experience working with electronics. He has presented lectures on adapting to remote recording and streaming at University of Wisconsin- Eau Claire, Troy University, and Coastal Carolina University. His article on streaming live concerts and the "virtual tour" has been published on The Clarinet Journal Online where he also serves as one of the contributors for album reviews. Ford has presented his research on Elliott Carter's Clarinet Quintet at Clarinet Fest, Madrid as finalist of the 2015 International Clarinet Association Research Competition. He has also earned recognition as one of six national winners of the Honor Society of Phi Kappa Phi's Marcus L. Urann Fellowship.
As a composer, Ford studies composition with Nirmali Fenn. He has studied with Reiko Füting, Todd Reynolds, and Fred Cohen, and vocal composition with Susan Botti. He worked as studio manager and assistant in MSM's Contemporary Performance Program coordinating electronics for contemporary recitals. He has brought Project M, his new initiative developing new works for clarinet and MUGIC motion sensor, to Oh My Ears! Festival in Phoenix, Arizona and Mise-en's Bushwick Open Studios. His music has been performed on the Concept Lab series, as part of a Westben artist residency, and the Cortona Sessions. He is releasing a new EP Iris with composer Erich Barganier in February 2021.
Ford is an advanced Doctorate of Musical Arts candidate at Stony Brook University. He was awarded a Doctoral Dissertation Completion Fellowship for his work exploring new ways of using electronics in clarinet performance. He served as a Teaching Assistant and Assistant Director of the Stony Brook Contemporary Chamber Players (CCP). He served as Interim Director of the CCP during the Fall 2019 semester. He holds a Master of Music degree from Manhattan School of Music's Contemporary Performance Program where he worked with David Krakauer and Alan R. Kay.
FOLLOW