BACK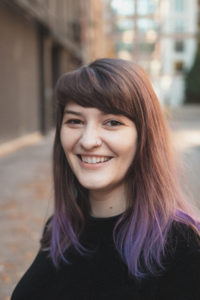 Piano, Voice
Amy Gadd
Amy Gadd has been actively teaching ukulele, beginner piano, and voice since 2012. Her favorite part of teaching is having her students find "the light bulb moment." Amy is a lyric coloratura soprano and enjoys singing anywhere from a grand opera, to chamber music, to coffee shops. She loves contemporary new music as well as 80's pop and the Shrek Soundtrack.
Amy is an Ohio native and a 2015 graduate of Otterbein University where she obtained a Bachelor of Arts degree concentrating in Music Composition and Theory. In May 2021 she obtained her Master of Music student in Vocal Performance at Roosevelt University College of Performing Arts.
At Otterbein she performed in the opera scenes workshop and sang with Otterbein's top choir and had the experience of touring to Chicago as well as Ireland.  In the fall of 2015 until the summer of 2017, she was involved in eight productions with Opera Project Columbus
In the summer of 2019, Amy released her first album called Finally Something.
During her time at Roosevelt University, she was in the ensemble for two productions and was casted as The Fairy Godmother in Pauline Viardot's Cendrillon. In February of 2020, Amy premiered the chamber work Movement by Austin Gray Williams as Soprano 3.
Amy has studied voice with Elizabeth Barrett, Maggie Green, Dr. Keyona Willis, Cynthia Clarey and Elizabeth Byrne. She has studied composition with Dr. Jennifer Merkowitz. She was involved in the music community as a member of Women in Music Columbus from 2017-2019. Amy loves to share her knowledge of music with her students!
FOLLOW

Amy Gadd CLASSES
View all lessons