BACK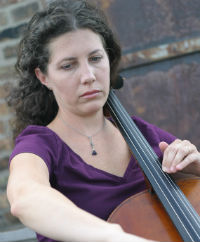 Cellist
Alyson Berger
Alyson Berger, cellist, is an active free-lance performer and recitalist in the Chicago area. A native of New York, she began studying cello at the age of 7 and made her orchestral debut at the age of 16 with New York`s Orchestra de Camera playing the Lalo Concerto.
In NY she went on to study at the Aaron Copland School of Music and Ithaca College and spent summers at the Meadowmount School and the Ithaca Violoncello Institute. After completing her undergraduate work at Ithaca she accepted a position in the Bloomfield String Quartet-a quartet that serves to promote classical/chamber music performance and education in Kansas. While working with the quartet she earned her Master`s Degree from Wichita State University and was a member of the Wichita Symphony Orchestra and a finalist in the Naftzger Young Artist Competition.
After teaching/performing in New York, she relocated to Chicago and has performed with the Chicago Civic Orchestra, the Elgin Symphony and the Northwest Indiana Symphony and has performed as guest soloist with the Ravenswood Community Orchestra. As a contemporary chamber musician in Chicago she has performed with CUBE, New Music DePaul and is proud to be a founding member of ACM and its performing group Palomar.
She has been featured on the Sunday Salon series at Chicago's Cultural Center, the PianoForte Salon Series and Live from Studio One on WFMT. She has traveled and performed in Europe, Mexico and Asia; most recently this summer (2010) in Tokyo, Japan. Her teachers include Mildred Johnson, Einar Holm (Ithaca College), Mark Evans (National Symphony), William Cernota (Lyric Opera) and Diane Chaplain(Colorado Quartet). She has performed in Master Classes for Jerry Grossman, Carter Brey and Takayori Atsumi.
Alyson has been a faculty member at VanderCook College of music in Chicago and Blue Lake Fine Arts Camp in Michigan and currently has a large studio of students in Evanston IL.
FOLLOW