Gnarly Buttons
Hailed by the New Yorker as "the most vital and eloquent composer in America," Pulitzer prize winner John Adams is a towering figure in modern music.
Rooted in minimalism and the American vernacular, with a generous helping of his own off-beat sensibility, Adams has forged a unique and deeply influential musical identity.
ACM celebrates the 65th birthday of this landmark composer with a concert of his large-scale chamber works.
PROGRAM
Chamber Symphony
Gnarly Buttons
Scratchband
PERFORMERS
Francesco Milioto – conductor
Katherine Adams – oboe/English horn
Hülya Alpakin – piano
Alex Atchley – percussion
Alyson Berger – cello
Dafydd Bevil – French horn
Madeline Capistran – violin
Steve Cohen – clarinet solo on Gnarly Buttons
Colleen Corning – clarinet
Douglas Johnson – double bass
Suvi-Tuulia Keto – trumpet
Jesse Langen – electric guitar/banjo/mandolin
Steven Louie – basson
Francesco Milioto – conductor
Christie Miller – clarinet
Alicia Poot – flute
Marat Rakhmatullaev – contra-bassoon
Dan Sartori – trombone
Isaac Stevenson – percussion
Ben Weber – viola
Amy Wurtz – synthesizer
Jeff Yang – violin
  Hours
Friday, Feb 13th, 2012 – 7:30 PM Central
  Location
Roosevelt University, Ganz Hall
430 S. Michigan Ave.
$20, $12 online, $5 students and seniors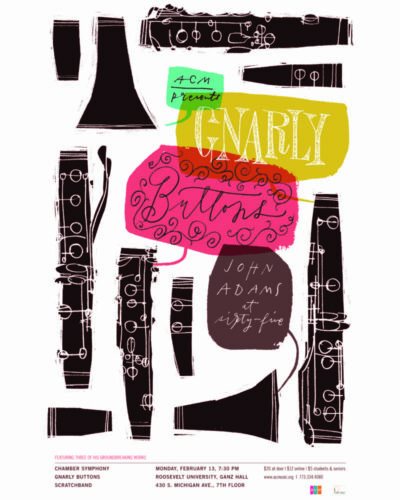 This concert will start at 7:30 and last for about 75 minutes without an intermission.  Please join us in Marks Hall for a post-concert reception.
Meet Our sponsors
This event is sponsored in part by: