Best of Weekly Readings
We're very excited about this concert! And not surprisingly considering that ACM was formed around the Weekly Readings project.
For the last eight years we've recorded a different piece by a living composer every week and posted it to our website!
Before music streaming was popular, well before podcasting, there was Weekly Readings. 
Now ACM's resident ensemble Palomar will perform some of the very best pieces out of the more than 300 that have been submitted over the years.
Do not miss this unique concert event. Save money and get your tickets online!
PROGRAM
Spell by Aaron Alon
Catching Updrafts by David Heuser
Homecoming by Benedikt Brydern
Anticipation of Light by Stephen Cohn
Ekhlas (pure) by Amy Wurtz

PERFORMERS
Alyson Berger – cello
David Eisenreich – percussion
Renee Keller – percussion
Alicia Poot – flute
Amy Wurtz – piano
Jeff Yang – violin
  Hours
Friday, June 22nd, 2012 – 7:30 PM Central
  Location
Roosevelt University, Ganz Hall
430 S. Michigan Ave.
$20, $12 online, $5 students and seniors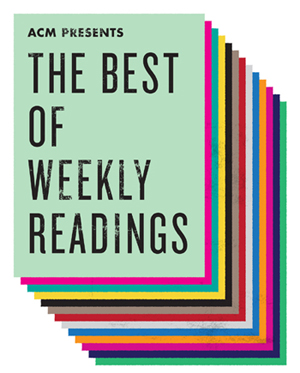 This concert will start at 7:30 and last for about 75 minutes without an intermission.  Please join us in Marks Hall for a post-concert reception.
Meet Our sponsors
This event is sponsored in part by: