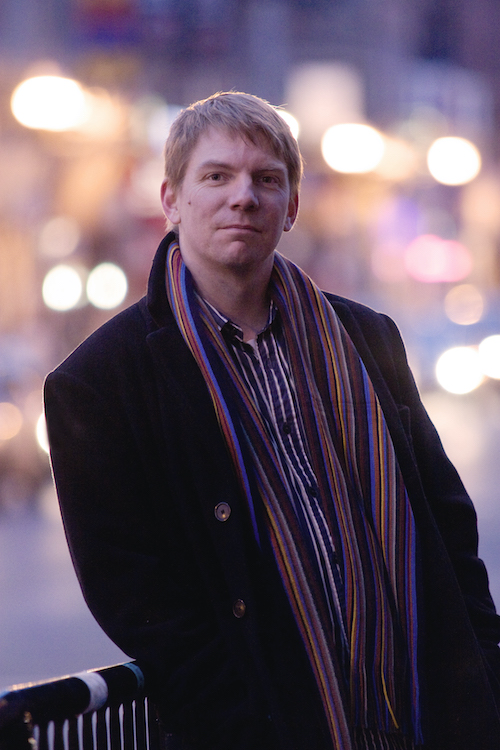 executive director
Seth Boustead
Seth Boustead is an award-winning composer, broadcaster, arts manager, concert producer, in-demand speaker and visionary with the goal of revolutionizing how and where classical music is performed and how it is perceived by the general public. 
He received his Master of Music Composition degree from the Chicago College for the Performing Arts in 2002 and has gone on to forge a unique and highly personal musical identity through a prolific outpouring of works in every conceivable genre. His music is regularly performed across the United States and in Europe and has been heard on radio and television stations in Chicago, San Francisco, New York and Paris among others.
In 2017 Seth's piano concerto was premiered to acclaim by the Chicago Composers Orchestra with Marta Aznavoorian as soloist and his piece Group Dance was recently aired on Performance Today, the country's most-heard syndicated classical music radio program.  He is currently working with novelist J. Robert Lennon on his first opera, inspired by the film classic La Jetée.  The New York Times called Seth's music "lyrical and full of whimsy" while the A/V club said "Boustead has a penchant for writing dark, angsty scores."
Seth is the founder and Executive Director of Access Contemporary Music, an organization that exists to present classical music as a living art form by performing new works in innovative ways for new audiences, providing community-based music education focused on creativity, and commissioning projects from composers around the world.  ACM began when Seth started the now-legendary Weekly Readings program in which he and other musicians met every week to read through, record and post pieces by living composers every week. Weekly Readings ran for six years and attracted major press including the NewMusicBox, Chamber Music Today and the Chicago Sun-Times.
Other ACM programs that Seth created include the Composer Alive commissioning project in which a composer writes a new piece to be read and recorded in short installments while its being written, collaborations with Open House projects in Chicago, Milwaukee and Barcelona in which composers write music inspired by different public spaces and musicians play the music every fifteen minutes in the space for guided tours, the ACM School of Music which teaches musical creativity to three hundred students in four locations throughout Chicago, a concert series in Chicago and New York and collaborations and commissions with composers throughout the world.
Seth has shared his passion for contemporary classical music with radio listeners through his show Relevant Tones since 2005, first on Loyola University's WLUW and, since 2011, on WFMT, Chicago's classical music station.  In January 2014 Relevant Tones syndicated internationally, bringing it to an estimated 50,000 listeners each week throughout the U.S. New Zealand, Canada and the Philippines.  It continues now as a Podcast and each of the more than 270 episodes can be streamed at relevanttones.com.  
Always interested in innovation, Seth created the Thirsty Ears Festival, Chicago's only classical music street festival, to showcase the stunning diversity happening in classical music today and to spotlight talented ensembles and soloists. 
Held the second weekend of August, the Thirsty Ears Festival attracts thousands of people and features two days of live performances, wine, beer and other vendors, food trucks and kid-friendly activities.  
In New York Seth has produced the Late Night at National Sawdust series, a series of live broadcasts from Le Poisson Rouge and, most recently, a broadcast from Lincoln Center.  Seth created the Concept Lab series at Cornelia Street Cafe in 2017 to showcase works in progress and experimental new works by a wide range of living composers.
A passionate advocate of silent film, Seth started the Sound of Silent Film Festival in 2005 featuring newly commissioned music performed live to modern silent films. Now in its twelfth year, the Sound of Silent Film Festival receives submissions from filmmakers in 30 plus countries and has featured World Premiere screenings of films from Iran, Argentina, Finland and Korea.  The festival regularly sells out Chicago's Music Box Theater and has had successful runs in New York, Austin and Mexico City as well.
Seth is the co-producer of the 2007 documentary film Composer Alive: Eastern Expressions, and also wrote music for the film and appears in it. Seth also help conceived and helped produce the 2016 film 1,001 Afternoons in Chicago, inspired by the radio play he wrote of the same name.  Both films have been aired for hundreds of thousands of people on PBS and have been shown in Chicago, Portland and Palo Alto.
A frequent guest speaker, Seth has given lectures and appeared on panel presentations at conferences around the world including Mexico City, Rotterdam, Berlin, Seoul, Colombia, Barcelona, Paris, Stanford University in Palo Alto and many more.  
He has spoken about diverse topics such as fundraising for non-profits, public relations, new directions in contemporary classical music and composing for film. In 2011 he gave a TEDx talk called the Future of Classical Music and was one of only 10 people chosen for the honor of speaking.
Seth has been interviewed by or had writings appear in a wide variety of publications including the New York Times, Chicago Magazine, Time Out Chicago, Composition Today, New Music Box of the American Music Center and Chamber Music Magazine.  
He has been a guest on radio and television shows including Chicago Tonight on WTTW, 848, Morning Edition and Afternoon Shift on Chicago Public Radio, Sunday Papers on WGN, Movies on the Radio on WQXR in New York and many more.  In 2014 he was chosen as the voice of the New York Philharmonic's Biennial Minute video series and he has given pre-concert talks and lectures for the Grant Park Music Festival, the SIRGA Festival in Spain, Banco de la Republica in Bogotá and many others.
Seth is also a regular contributor to Newcity Magazine in Chicago where he writes feature articles and he has contributed liner notes to numerous CD releases.  In 2016 he won the prestigious ASCAP Deems Taylor award for broadcasting and was a finalist for the Classical Next Innovation Award. 
Seth is a proud member of Composers Concordance and an associate composer member of Random Access Music and he currently lives in Manhattan with his wife Maria, the founder and CEO of Po Campo.
 More information about Seth can be found at sethboustead.com