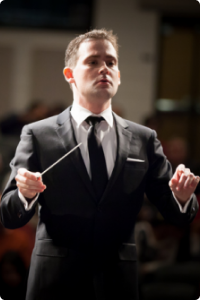 music director
Chris Ramaekers
Winner of the 2011 American Prize in Orchestral Conducting, Christopher Ramaekers is currently Principal Conductor of the Ravenswood Community Orchestra and Director of Orchestras at the University of Wisconsin-Whitewater.
Chris has been Music Director of the Orchestra of St. Vincent's and the Hyde Park Youth Symphony and the summer of 2016 marked his seventh season as Director of Orchestras at Camp Encore/Coda in Sweden, Maine.
As a guest conductor, Chris has appeared with the Skokie Valley Symphony, Kalamazoo Symphony, North Shore Chamber Orchestra, Salt Creek Chamber Orchestra, the Alice Millar Brass Ensemble, Ensemble Dal Niente, Access Contemporary Music's Palomar Ensemble, the Chicago Opera Vanguard, and internationally with the Berlin Sinfonietta.
Chris was a 2012-2013 Conducting Fellow with the Allentown (PA) Symphony Orchestra and a part of the 2013 Emerging Conductors Program with the Peninsula Music Festival. He holds degrees from Western Michigan University and Northwestern University.