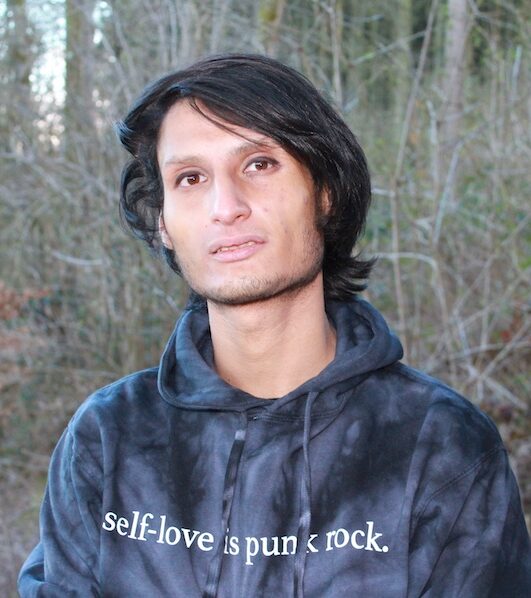 Zygmund de Somogyi
Zygmund de Somogyi is a British-Filipino composer, artist, performer, and curator currently working nationally and internationally from London.
Zygmund's compositions explore expressions of online folklore, interdisciplinary performance, and the recontextualisation of genre and form, with their nonclassical background and punk rock upbringing greatly informing their practice as a composer. Zygmund's work has been performed across the UK, Ireland, Germany, Spain, Malaysia, and Canada by ensembles such as Quatuor Bozzini, Fidelio Trio, Tresonant, Mutiara Piano Trio, and Thallein Ensemble, among others. Ongoing projects include a chamber opera inspired by indie-horror game OMORI, a suite for concert orchestra based on the SCP Foundation collaborative fiction webseries, and an interactive exhibition and graphic score series told through an RPG as part of Gaudeamus Screendive.
Zygmund studied at Royal Birmingham Conservatoire with Ed Bennett, Howard Skempton, and Edwin Roxburgh. They spent their teenage years in the Leeds DIY and alternative music scene, and play in skate-punk trio High Visions (INiiT Records), which has caught the attention of Kerrang!, New Noise, and Slam Dunk Festival. Zygmund has recorded and released four solo studio albums, the most recent of which being dark ambient and electronically-focused 'A MIND CRASHES INTO THE SUN'; Zygmund's music also features in productions affiliated with OSO Arts Centre, ThinkTank Planetarium, and YouTube channel Rare Earth. Since 2021, Zygmund has collaborated alongside transcontinental theatre company Distracted Rat, with commissions from Camden Fringe Festival, London Horror Festival, SPRINT Festival, and Camden People's Theatre.
Zygmund is founder and artistic director of contemporary music magazine PRXLUDES, featuring interviews with emerging composers from across the contemporary music landscape. Zygmund is openly autistic, and helps run the Autistic Musicians' Network for musicians and creatives on the autism spectrum.