BACK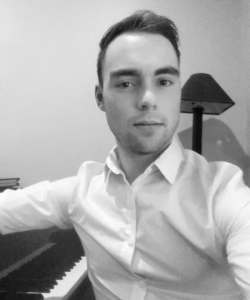 Piano, Composition
Stephen Anthony Rawson
Stephen Rawson is a pianist, educator, and composer from Minneapolis, MN. In 2015, Stephen completed his Bachelor's degree in composition. He is currently finishing his Master's degree in music theory.
Stephen enjoys performing and composing in a variety of different musical styles, from jazz and pop/rock, to classical and contemporary concert music. Improvisation and singing are also important aspects of Stephen's pedagogy and practice.
Recently, Stephen taught first-year aural skills and music theory at the University of Oregon as a Graduate Teaching Fellow. Stephen has also been teaching piano and composition lessons privately for the past 8 years.
As an educator, Stephen believes that studying and creating music helps one to shape their self-identity, better understand their emotions, and develop a perspective based in collaboration, perseverance, and open-mindedness.
In his free time, Stephen likes to read, spend time with friends, and play with his cat Mitri.
FOLLOW

Stephen Anthony Rawson CLASSES
View all lessons
Piano
We offer piano lessons for children beginning at age 4 and for adults of any age. Our teachers have a wealth of experience with young beginners and those returning to piano.